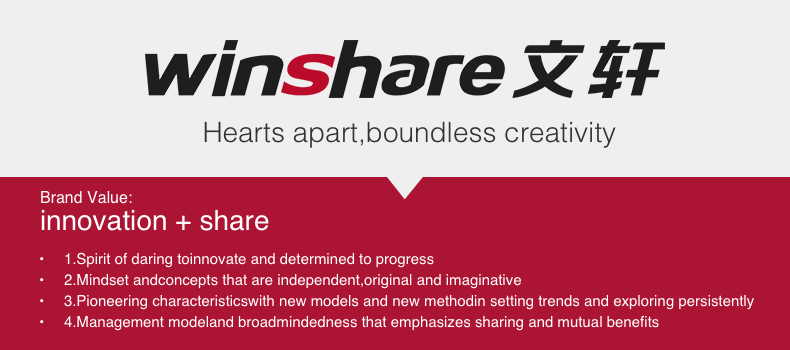 Brand Profile
Explorer on the developmental path of the cultural industry
Winshare is an explorer on the developmental path of the Chinese cultural industry. Winshare dares to innovate, is determined to progress and persists in exploring the unlimited possibilities on the road of culture. Winshare stands tall in the publishing and media industries with an energetic and keen stance that is supported by the market. Winshare relies on creative mindsets to surmount regional or industrial boundaries and seek the future of cultural development.
With the broadmindedness and vision to "share mutual benefits", Winshare builds a cultural media platform characterized by openness, harmony, joint creativity and sharing. With the "innovation • share" brand concept, Winshare takes off on the road of cultural innovation, shares the fruits of innovation, and takes on the role of an outstanding cultural transmitter, the most valuable cultural industry strategic investor and consolidator, and a cultural industry corporate citizen. Winshare collaborates with its staffs and partners to generate cultural value and share the culture of the future.

Brand Vision
To become China's most creative, sharing and influential cultural brand
In the next half decade or longer, we will consolidate a diverse range of related resources and develop an energetic, distinct and powerful brand in the cultural media sector. For the benefit of the general consumer populace, we will rely on our industry-leading and innovative channel operation, production development, uniquely attractive service combinations and expansions into related cultural areas to generate substantial value in the effective learning and high-quality spiritual well-being for citizens around the nation. Our investors, partners, customers and employees will all partake in and share the fruits of the process and the results. In such creative process, we garnered widespread respect from all facets of society for our endeavors in carrying on human civilization and committing to public welfare causes. In such creative process, our operating team won popular acclaim from industry peers for our innovation and professionalism. This unwavering resolve propels the value of the Winshare brand on a continual rise, enhances the brand's resource consolidating capacity adequate for surpassing major competitors, and augments the company's financial returns and risk tolerance ability.