Publications collaborative trading platform
The publications collaborative trading platform is a comprehensive trading service cloud platform based on Internet technology and is specialized in providing trading marketplace, matching services, business collaboration and data services for users.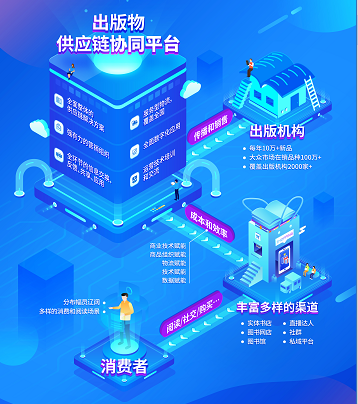 Development: upstream client: there are more than 800 publishing companies on the platform providing product release, category display, order processing and tracking, marketing information feedbacks and other services.
Downstream purchasers: after Xinhua Winshare and Chongqing Xinhua, the publications collaborative trading platform has garnered clientele such as Shenzhen Xinhua, Tibetan Xinhua, Guangdong Xinhua and provides them with new book information, order tracking, logistics and delivery, order receiving, account checking and other purchasing services.
Main achievements: in 2015, the transaction volume of books in pre-discount pricing for the year totaled over RMB 3 billion, approximately equating to RMB 250 million per month. About 43,000 orders were placed monthly.